"Twas' the night before Christmas and all through the house
not a party host was stressed, they just sat on the couch.
The lights were all strung on the heated tent with care
as the party guests soon would be there.
The ColdIron team helped plan the party
Now both hosts and guests could enjoy, full heartedly."
Want to throw the perfect Holiday Party this year? ColdIron Event Rentals is here to help make your holiday party one to remember! From heated tents, tables and chairs, to elegant dinnerware, ColdIron has everything you need to plan the perfect holiday party. We decided to create a list of tips to help you stay on track when planning this year's holiday party!
1. Baby, it's cold outside.
No matter the weather, you can keep your guests warm and dry under ColdIron's heated tents. Still want to watch the snowfall? ColdIron's clear top tents provide the perfect view of snow falling right over your guests' heads. The heated and lit tents will provide the perfect ambiance of the holiday season. Turn on some holiday tunes and bring the party outside!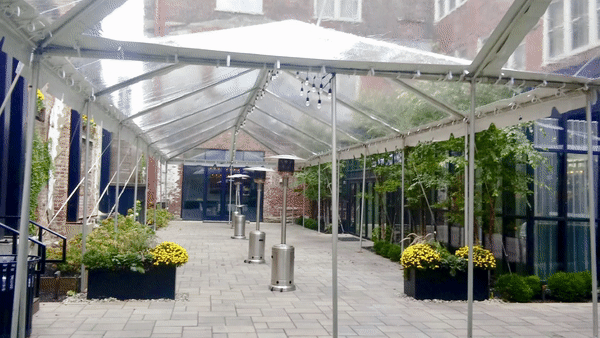 2. Linens bring it all together.
Every party planner knows that unique colors, themes and designs make any room stand out. Whether you're going for the Winter Wonderland, Christmas Evergreen, Rustic and Burlap or Candy Cane Lane look, ColdIron can make it happen. There is a wide array of linens to choose from through ColdIron's site. Click this link to see all the linens currently available.
3. Give yourself the gift of convenience.
You're throwing an epic holiday party! Don't spend the whole night washing dishes and cleaning up the sink. ColdIron makes clean up easy with our convenient dinnerware rentals. We'll bring clean, elegant dinnerware right to your door, ready for setup. After the guests have finished eating you don't have to stress about washing and rinsing. We'll pick up the dinnerware the next business day and take it back to our workshop for cleaning!
4. If you don't have space, make space.
Worried you can't comfortable seat your in-laws, friends and family? Nobody wants to sit and eat on the floor during the holidays. Make room by renting tables and chairs from ColdIron. Can't fit it all inside? Bring the party outside with our heated tents. We'll come to you and set up the tent to lead right from your door/porch/patio! This way guests can have all the comfort of being indoors while still enjoying the unique experience of being under a lit up tent. Decorate the tent with elegant string lighting, garland and even a Christmas tree!
5. Seek out an event planner.
Still stressing over getting everything done on time? Seek out an event planner to organize everything for you! ColdIron's hard working team has the most experience when it comes to planning events. From a pretty potluck in the break room, a winter bbq on your grounds, or an offsite outing, we can take care of every detail. ColdIron Event Rentals is the top producer of events in Cincinnati. From producing events such as Bacon Bourbon and Brew, Party on the Purple, The Great Inland Seafood Festival and more, ColdIron can handle any event of any size. Give ColdIron a call today at (513) 882-2951 for more information.
Ready to start planning? Visit https://www.coldironeventrentals.com/party-packages to get started! Check out some of the great party features and packages available. Get a free quote and call (513) 882-2951 for more information!
#ColdIron #ChristmasParty #HolidayParty #HolidaySeason2018 #ChristmasParty2018 #PlanThePerfectParty #ChristmasSeason #Cincinnati #CincyFests #Cincy #WeAreEvents #EventPlanner #ChristmasEventPlanning #Winter #NewYearsParty
Follow CincyFests on Social Media:
❄️Facebook
❄️Twitter
❄️Youtube
❄️Snapchat
Follow ColdIron Event Rentals on Social Media:
⛄ Facebook
⛄ Twitter
⛄ Youtube